Kevin sent me a Candy Basket and a Candle through the florist on Friday.  These totally made my weekend as I was having a rough day (more on that later) and it was totally unexpected as it came three days early.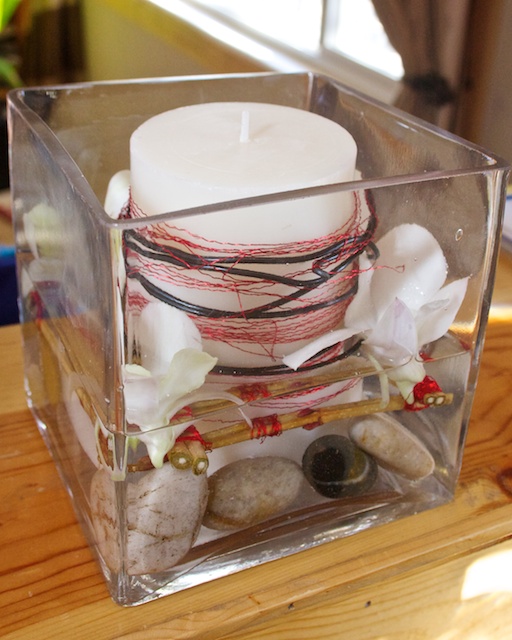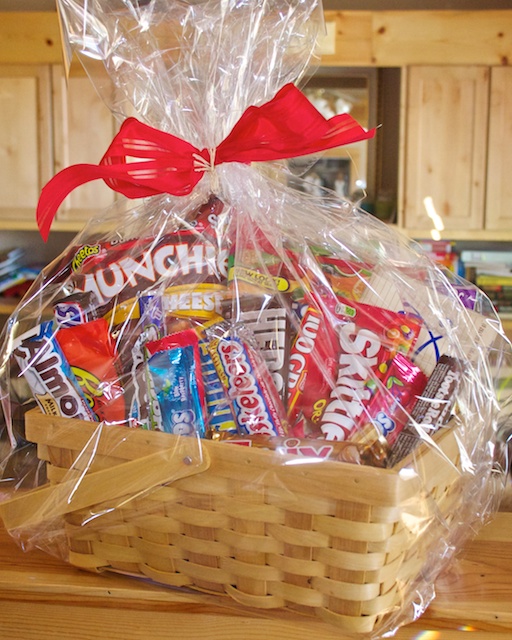 Valentines day was busy as my Mom and I helped with Aiden's class party.  Kevin's Mom offered to take the boys for us, so we could have dinner by ourselves.  I don't like going out to dinner on Valentines because EVERYONE goes out that night, so you spend most of what's supposed to be an intimate evening crammed into a small waiting area with a lot of other people or outside trying to stay warm, then you rush through dinner so you can make it back to the babysitter in a reasonable amount of time.  What's the point?  Not my idea of romantic…  I'd thought of reenacting some of our early dates with Arby's or movies we'd watched early on, but Kevin was a dear and brought home Arby's for Dinner on Thursday night.  So we ended up making a steak dinner.
This is the table just before we sat down to eat.  Kinda informal for a tablescape, but that wasn't the point.  We had a great time.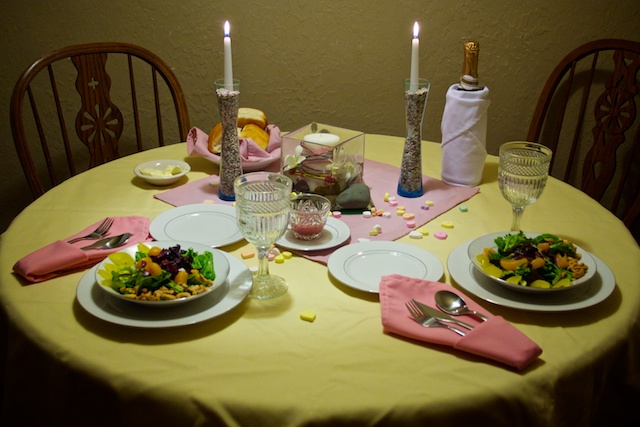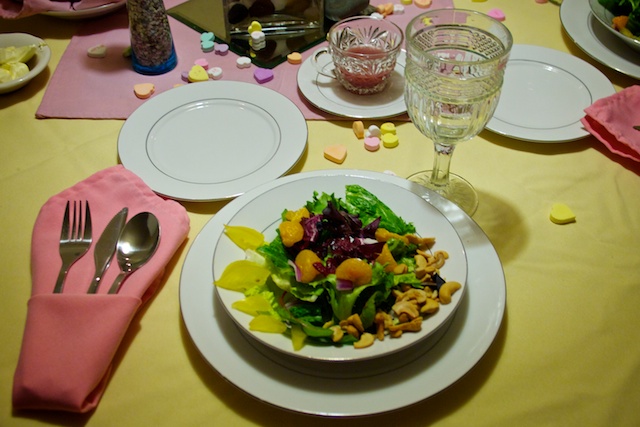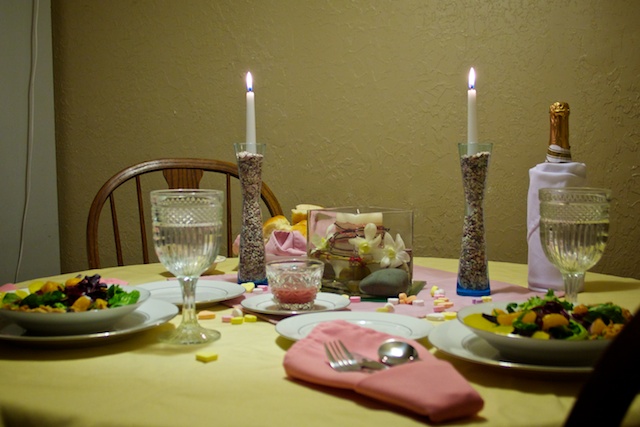 We had my Mother in law's recipe for salad, it's oh so yummy.
Spring mix and romaine
Red onions
Mandarin oranges
Tomatoes (ours were yellow, because that's what came in our produce box last week)
Craisins
Cashiews (slivered almonds are great too)
It's better with poppy seed dressing, but we had a raspberry vinaigrette.
It would also be a tasty complete meal with grilled chicken.
We had grilled New York steak marinaded with A1 pepper and onion marinade, with a side of garlic and herb pasta and store bought dinner rolls.  To drink we had sparkling cider with a tablespoon of Pineapple Coconut juice.
For Dessert we made Cinnamon Bread Pudding
I chunked up a little more than half a loaf of bakery fresh cinnamon bread and set it aside
Warmed on the stove top ~1/3 cup butter and ~2 cups milk
Mixed in another bowl
~2 slightly beaten Eggs
~1/2 cup sugar
~Plenty of Cinnamon and Nutmeg
~few twists of salt
I mixed up the bread and the egg mixture, then poured on and carefully folded in the milk and butter.
Baked uncovered in my crock pot (just the pot part) in the oven @ 350 for 45 minutes.
We ate it almost straight out of the oven with Vanilla Bean Ice Cream.  Mmmmm!  What we didn't eat last night, the boys and I finished off for Breakfast today.  This is going to be one of our go-to recipes now!  It was heaven in a spoon! It's also nice to find a richer, more savory dessert that doesn't contain chocolate as Kevin's allergic to Chocolate, but craves the none fruity sweets occasionally.  Next time we'll add raisins.
We went and got the boys, got them to bed and went to the Theater and watched the first half of Crouching Tiger Hidden Dragon, we'd never heard it in English, just watched it with subtitles, before practically falling to sleep.
It was a very good day and night.  I wish we could have a day like that at least once a month!