OK, so I tried something new today, I don't LOVE the results, I'd give it a 4/5 rating if was a recipe I found online.  I added cocoa powder to a recipe I already had, it was a different recipe than the one I'd used last time, but by reading the ingredients, I thought this one might be better.
Here Goes!
Chocolate Banana Bread
Preheat oven to 350 and grease 1 9X5 loaf pan or two small loaf pans
1/2 cup butter (one stick)
1 cup sugar
cream together, then turn mixer to slow
2 eggs
1 1/2 cup mashed banana (I just chunk up 2 ripe bananas and drop them into the mixer)
1 tsp vanilla extract
Mix until banana's aren't in huge chunks, but not too much so that you don't start to whip up the eggs.
In another bowl mix~
2 cups flour
1 tsp baking soda
a pinch of ground clove
1/2 tsp. cinnamon
4 Tbsp. Ghirardelli Ground Chocolate (if using another brand of baking cocoa, you'd probably cut this in half, this kind is cut with a bit of sugar, I was not thrilled when I opened the can to see those sugar sparkles, I thought I was getting pure cocoa, I guess I learned my lesson…)
Turn the mixer back on at the stir setting (lowest gear)
Scoop about 3/4 cup dry mix at a time into the batter, I usually just use a heaping 1/2 cup measuring scoop.
Scrape the bowl and mix a tiny more, just until everything is incorporated.  If you were going to add mini chocolate chips or nuts now's the time.
Using a rubber spatula pour into loaf pan.
Bake about an hour, checking at 50 minutes, bake until toothpick clean.
Remove immediately to wire rack if you like a crunchy crust, if not allow to cool in the pan.
NEXT time I make banana bread I'm just going to go with the other recipe I like, it's on allrecipes.com labeled "Best Ever Banana Bread."  I'll link it for ya, but it seems every time I try to link there the links break…
Here's a little pic of my treat tonight!
And one more.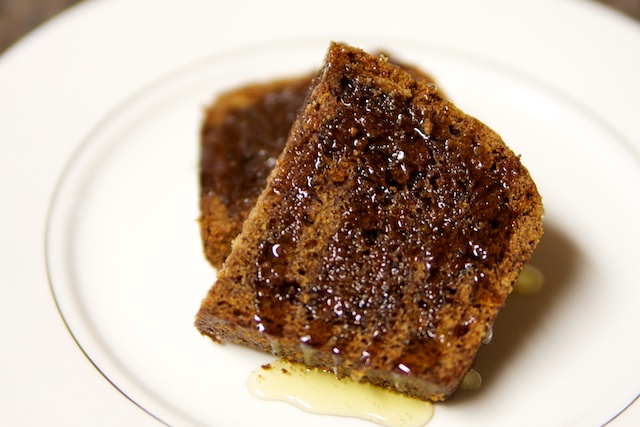 Why yes, that's a pretty iridescent counter!  Thanks for noticing! We got it for a steal at the local granite shop when I couldn't cope anymore with our old bar.  Someday we might even get to the rest of the counters in there, oh and a new sink…  And maybe even new cabinets.  That's FAR FAR future.  After we tackle my bathroom, and maybe the boys bathroom too…  Ahh, dreaming…  I am very blessed, and I do love the style of my kitchen, I just wish you couldn't see my sink from the front door.