This is in reply to a post over at That Old House by Cass.  That Old House is a blog about living in and enjoying an almost 200 year old home.  I was referred over there by Susan from Between Naps On The Porch, another fun and amazing blog about tablescaping (the art of setting a table beautifully and artfully), decorating, and general fun.  I found her blog a few years ago because of a beautiful beach theme table top that she posted on a decorating website.  Before I knew it it was Thanksgiving time and I wanted a "really fancy and formal" dinner table.  I emailed Susan and she was more than helpful and encouraging to this beginner.  At the same website that I found Susan and her blog, I also found Lisa at The Dilletante Proprietor.  Oh my heavens.  She's so fun!  She bought a old little shack for $600 total at a state auction, and then painstakingly restored it all.  If you get a chance, read it oldest to newest, and there's an amazing surprise waiting for you in the most recent few posts.  She's now moved on to different things in her life, but the read was so fun.  I was sick for a few days and read it all like a novel.  I'd recommend reading any of these blogs to someone on bedrest, sick, or just wrapping up on a cool fall or winter night.
Oh Kaylene, lets get back on track shall we?  Here is a link to the Grandma Cake post and recipe.
Basically it's a family recipe passed down by her Norwegian Grandma.  We have a few Norwegian ancestors, but no recipes from that branch of the tree as far as I know, so this recipe held particular interest for me.  Yesterday, Sunday, I thought it would be a perfect chance to give it a try.
The recipe was handed down from grandma, to daughter-in-law, the mother of the blogger was the only daughter-in-law approved of enough to get the recipe.  Cass thought it was lost forever until her sister found it in their mothers recipe box.  While looking at the way the recipe is written it's not hard to guess that either the daughter-in-law was an avid baker and didn't need to write down all of the instructions, or mother-in-law didn't give her that information so that she'd never be able to make it "just like Grandma did."
So here's the recipe as shared-

GRANDMA CAKE
3 cups flour (unbleached)
1 cup sugar
1-1/2 tsp. baking powder
1/4 tsp. mace
a pinch of salt
1 cup butter (no margarine; Grandma will rise up and smite you!)
3 eggs
1/2 cup milk
1 tsp. pure vanilla
Mix all the above thoroughly and beat at high speed for 3 to 4 minutes. (Note: If you are using a high speed mixer, like a Kitchen Aid, cut back on the mixing a bit.)
Bake at 350 for approx. 1 hour.
(It's not written down, because you are clearly just supposed to know that the cake batter goes into a greased bundt or tube pan before you put it in the oven!)
This is not a fine-grained pound cake; it has a rather coarse crumb, and the outside gets quite dark and caramelized looking and as the cake ages a day or two the "crust" gets a bit of a crunch to it. Oh my. I may have to bake this. I don't bake anymore because Howard and I aren't eating sugary things. I may have to make an exception. Please let me know if you try it! — Cass
Other than the sugar I sifted together the dry ingredients and set them aside.  I don't keep mace, so I substituted with freshly ground black pepper, though after a little research I'm learning nutmeg would have been a more appropriate substitution.  This was the only substitution I had to make as I keep unbleached flour as our staple flour instead of all purpose.  I creamed the sugar and butter together.  Then I added the milk, vanilla, and eggs just until incorporated.  I added the dry ingredients 1/3 at a time and mixed just until blended, since this was in my mixer I beat at high for about 1 1/2 minutes. I snitched a taste of the batter and it was delicious.  I spooned the heavy, almost cookie dough like batter into my heavily buttered bundt.  Next time I'll give it a few taps to get more of the giant bubbles out of what will become the top of the cake.  I baked at 350 for 55 minutes, which was about 3-5 minutes too long as I realized later (I'm at about 4,500 ft above sea level).  After gently going around the edges with the back of a butter knife (don't want to scratch up my pretty pink bundt pan!), it popped out of the pan beautifully with only one crumby sticky spot which was remedied easily enough.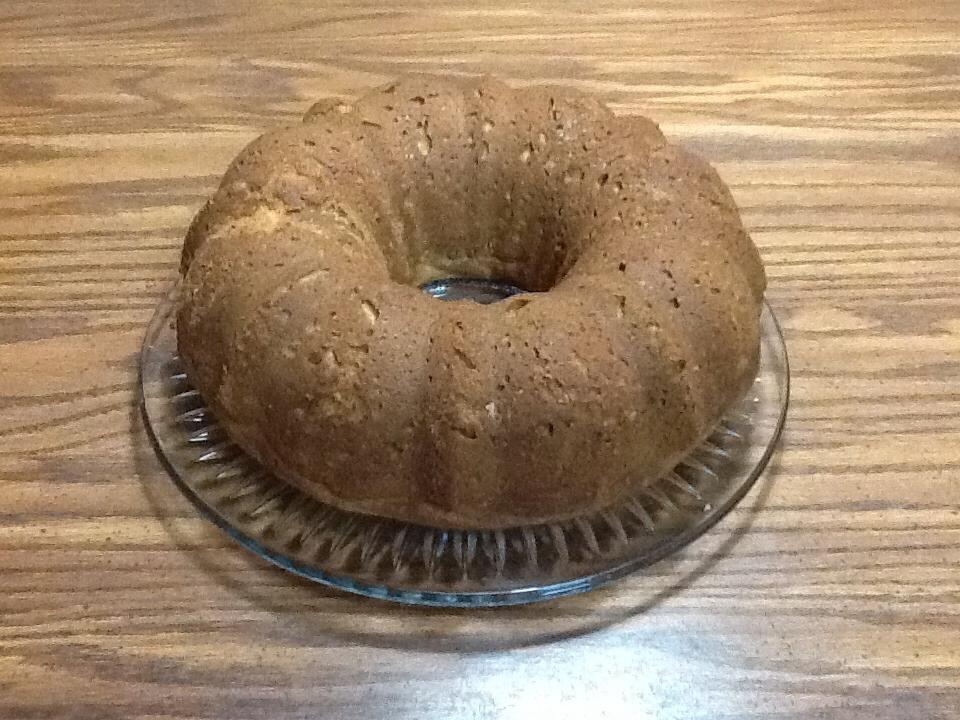 Compared with modern cake mixes or store bought cakes, this cake was a little dry, not nearly as sweet, and much more like a pound cake.  Last night one of the boys said it was like sweet bread more than cake.  Another commented, "Like a cookie on the outside, and bread on the inside."  I'm delighted that our kids love to think about and talk about what they eat instead of just inhaling it on the way to the next distraction.  I chose entirely the wrong glaze (2 c. powdered sugar, 2 1/2 Tbsp. milk, 1/4 c. melted butter and 1/2 tsp. vanilla extract, it would have been way too thick if I hadn't put it on a still warm cake), and added too much vanilla, so it detracted completely from the cake.  The glaze was too thick and sweet, so in contrast the cake seemed dry, and unsweetened, however when we were careful to take a drink of water and then eat just the cake it was very nice on it's own.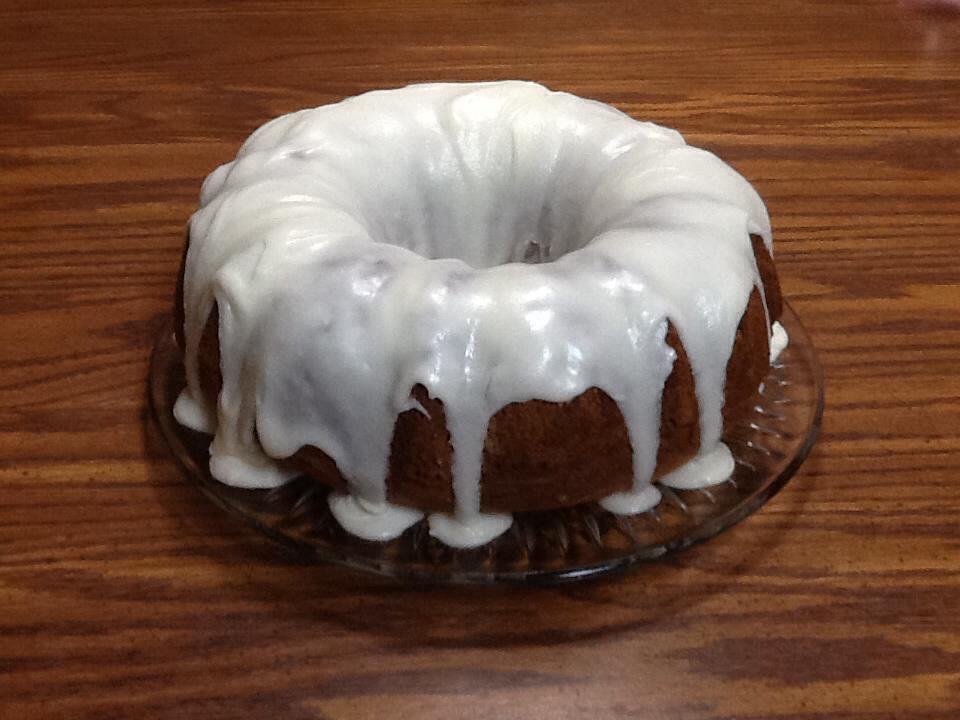 My family agrees with Cass, it's definitely better the second day.  I think the unglazed cake with some wassail, hot tea, or hot cocoa would be amazing, or it would be so good drenched in milk, for the people who like their cake that way.  I'll add another pinch of salt and a little more sugar to the batter next time.  And no glaze.  Unless maybe it's just plain melted chocolate, but then my chocolate allergic hubby misses out.  Yes, no glaze or topping again, well maybe just a light "snow" of powdered sugar.  It's absolutely on the short list to make again.
Oh, and a little funny from the boys.  When I told them I was making "Grandma Cake" they thought it was to take to a Grandma.  They explained it MUST be a cake that you take to a Grandma as that is it's name!  I explained it was a recipe from somebodies grandma, not one of ours.  They were still pretty excited about it.  Cass I hope you don't mind if we call this "Old Fashioned Norwegian Cake" in our house from now on, but it's entirely possible that the kids will call it "Grandma Cake" regardless.